Local SEO for your dental clinic website will get you on potential buyer smartphone screens when they search for "Dental Clinic Near Me" or "Dental Care Center Near Me." And I am pretty sure you do not want to miss out on this opportunity.
"Near Me" – a search string that helps many offline businesses by providing them visibility and generating walk-in sales. It can work for your location too.
According to the 2017 data shared by Think By Google, queries containing "Near Me" outgrown the common search terms by 150% in the last two years, meaning they are talking about 2015-2017 data. Compared to today, a lot has changed, and the numbers shared by Google and respecting the digital revolution, it is easy to understand that it definitely has broken records by now.
That means optimizing your local business website to rank it on top of the search engines, e.g., Google, Bing, etc., is necessary to improve the cash flow of your business. How to do it? SEO is a one-word answer.
Creating a website seems simpler nowadays than ranking it in search engines. SEO is an ever-changing practice that one must stay updated with to ensure the website stays on top of the search engine when someone searches for a related query.
This article will show how you can optimize your dentist's website for search engines. If you find the process tiring, call us at the number below, and we will make it work for you.
Why should dentists consider local SEO?
As a dentist, you have your clinic and machines set up to solve the dental pain of patients; however, you do not provide dental treatment worldwide or as a door-to-door service. That said, you will need a different solution than a standard SEO practice.
Your dental clinic is located in a specific place, so your target audience is locals living nearby your dental clinic, hence Local SEO.
Local SEO is not a subtype. It says local because your business website and related profiles will be optimized for a specific location, as stated earlier in the sentence. Follow the below steps to get started with local SEO for the dentist:
How To Do Local SEO for Dentists: A Step-by-Step Guide
1. Keyword Research
Data is the new fuel of today, and you must benefit from it. To do keyword research, you can use paid tools like Ahref and SemRush. WordStream Free Keyword Tool is a reliable option if you are not willing to invest additionally. Below are a few simple steps to find a reliable keyword:
Begin with the location-specific keyword (e.g. Dentist + Location)
Look out for keyword search volume and difficulty
Find a keyword combination that includes Dental related keywords and mention your business location
An example: Dentist in Brampton, Best Dentists Near Me, Family Dentistry Shortlist 10-20 keywords based on their competition level and follow the next step.
2. Competitor Analysis
Put a few keywords in the search engine and analyze who ranks for that query on the first page. You will find the following things on the result page:
Google Ads (Only if someone is running a PPC campaign on that keyword)
Local search pack (A list of businesses that registered themselves on Google My Business)
Local business websites
Directory websites such as Yellowpages.com
The main aim of competitor analysis is to locate a gap between your website and your competitor. A gap could have been anything. It could be page load speed, lack of content/copy, and weak SEO. Keep the basics checks on top priority. Later you can experiment with new ideas.
3. Google My Business Creation
Google My Business creation is the easiest way to get started. It will barely take 1-hour to set up completely, but the verification process takes up to 7 business days. To create a business profile, click here.
While creating your dental center business profile, follow the valuable optimization tips to boost your GMB ranking.
Include a keyword in the title, plus your business name
Provide every detail rather than skipping, e.g., photos of the dental clinic, equipment, doctors, working hours, working contact details, opening days and hours, etc.
Create a compelling 700-character description (This part must be SEO friendly to rank at the top)
Also, add your website to build authority and trust in patients' mind
If you have already had a dental clinic for so long and created a GMB profile just now, call your most recent customers and ask them to leave an honest review.
Rank the Website in SERP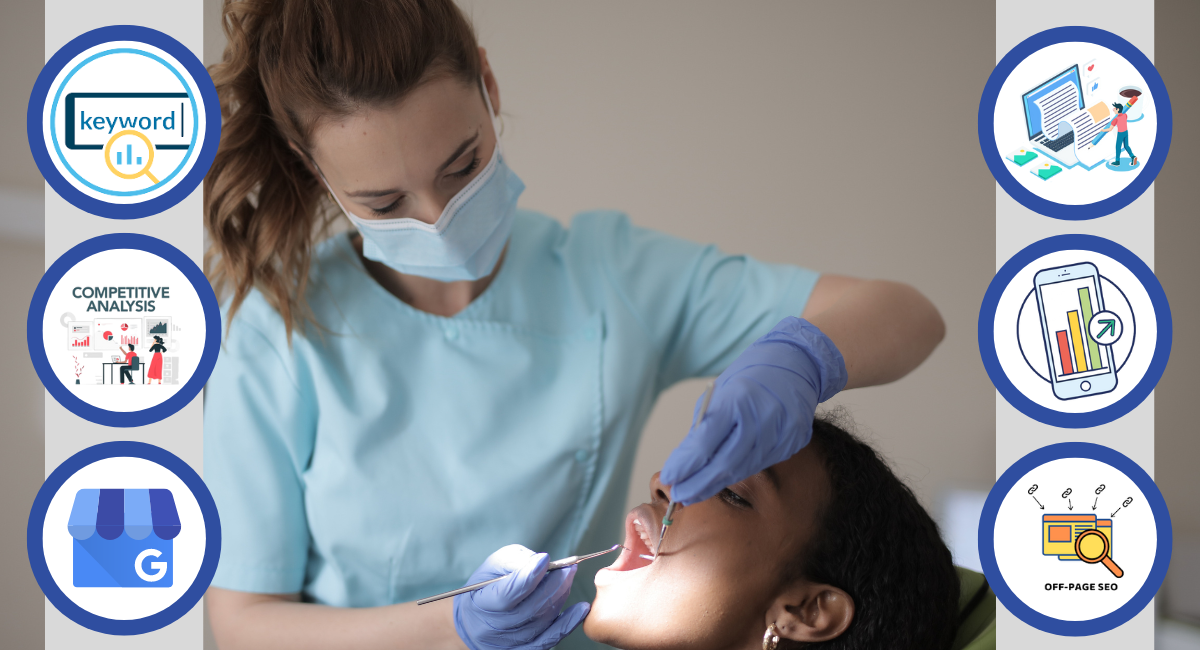 Ranking a website, especially if you have just started, is a difficult task. It's easier said than done. The below points apply to the dentist who already has bought the domain name and has a decent WordPress website.
If you don't have a domain, we recommend including a "dental" or "dental clinic" word after your clinic business name. Check domain availability using our free domain name availability checker.
1. Existing Website Audit
There is no better advice than clearing the basics, and it implies to a website, too. As it is built on technology, fixing errors allows search engine bots to crawl the website correctly. Fix the followings:
HTTPS enable check
Website indexability
Robots.txt file
Sitemap configuration
Look for 404 errors
80% of your technical problems will be solved by fixing the things shown above.
2. Content Check
No search engine understands a blank page until or unless there is text content. When you create a page for your dental service, ensure you have done the following step beforehand:
In the content, add the following:
Title containing the seed keyword
Meta description (160 characters) that includes main and LSI keyword
Create compelling headlines
Write a catchy introduction – you can use A.I.D.A formula
Add body content with proper subheadings
Add FAQs to solve the website visitor doubts at a glance
Fixing content first will help your website rank for different search queries.
3. URL Structure of Your Service Pages
If you are currently using a permalink structure like the one below, try to set it like the one I recommend:
Example: https://yourdomainname.com/dental-clinic
Set it like: https://yourdomainname.com/dental-clinic-service/root-canal
In the place of "dental-clinic-service," you can also add "place" to specify the area if your targeted keyword is competitive so the permalink structure would look like below:
https://yourdomainname.com/brampton-dental-services/root-canal
OR
https://yourdomainname.com/brampton/dental-services/root-canal
Specifying a location in your URL boosts your ranking in search results as local will only find, which is your ideal goal.
4. On-Page SEO
The content check section you saw earlier contains the top factors of on-page SEO, so I kept it in a separate section. Here, I will show you a few more things you help you optimize your website further.
Internal – External linking structure
Adding relevant images to pages with ALT text (make sure to add ALT text)
Set an external link to open in a new tab to reduce the bounce rate
Since its a service page, adding testimonials for particular services will establish trust
Mobile-friendly design (Most important)
Page load speed
Structure data implementation
5. Backlink Building
Backlinks are other websites that will link to your business website. It's a vital ranking signal in the search engine. Building backlink takes time, so it's a consistency and patience game.
Below you will find ways to build backlinks:
List your website on business listing websites such as Yellowpages, Yelp, etc.
Profile creation – Create your profiles on most social media and add a link to your dental business website in the respective field to earn a backlink.
PR outreach – It is challenging but is worth the effort
Guest posting – An effective way to build links; however, time-consuming, if you are doing it on your own
6. Blog to Support Pages
Google E.A.T stands for expertise, authoritativeness, and trustworthiness. It is a guideline released by Google to improve the search results for queries. A blog is an excellent way to establish expertise in a particular topic.
To find titles for blogs, you must do keyword research. You can also share topics that are not adequately explained elsewhere.
Pro Tip: Find blog keywords with volume that are related to the services you provide and interlink the article with your service page.
Bottom-Line
You just finished reading the DIY Local SEO basics, which you can do to improve your dental website ranking in search engines. SEO is an ever-changing practice, and there is no thumb rule for it as what works for your competitor might not work for you.
SEO is equal to patience. Defining the duration of results is quite hard to conclude as it depends on effort; however, if you want to outsource local SEO for the dentist, Maskoid Technologies can help, and you will see guaranteed results in 6-months.
If there's any question you like to ask, feel free to ask in the comment box.
FAQs
1. What is local SEO for dentists?
Local SEO for dentists refers to ranking local dental clinic business websites in the defined location to improve the search engine rankings to bring traffic and leads for walk-in clinic visits.
2. Do dentists need SEO?
As long as you have your dental business website and Google My Business profile, SEO becomes necessary to rank better in respective search engines.
3. Can I do SEO on my own?
Of course, you can. But you must be consistent with the regular SEO updates, do keyword tracking, implement link-building practices, technical SEO, and more to see results. These can feel tiring after some time as you try to do something entirely out of your field. So, it is advisable to outsource.
4. Should I outsource Local SEO service for my dental business website?
If you have no time to learn and implement SEO, it is better to hire an expert to do it for you.
5. Are Google Ads better than SEO?
Google Ads are better for quick wins, but to sustain them, you have to keep investing. You stop the cash load; the ads stop right there. On the brighter side of the picture, you can squeeze more advantages by putting SEO first, and as your website begins to rank, you can opt for Google Ads to see the best results.